Welcome to Auto Glass Solutions page dedicated to windshield repair Kent. We are pleased to see you are considering using our company for your windshield repair and or replacement needs. Call us to get an estimate or you can also fill out the contact form on our website. Auto Glass Solutions also encourages you to read more about our Kent auto glass services.
Speak with an expert now. 1-253-856-1239.
Auto Glass Solutions has provided Windshield Repair in Kent WA since 2000. Thousands of vehicles have experienced the professional windshield repair and replacement services that we proudly provide. Employing the highest standards, we adhere to the AGRSS (Auto Glass Replacement Safety Standards Council) so that every windshield repair job in Kent that we complete, is installed per the OEM requirements of the manufacturer.
Proud to be Local
We are proud to be a local auto glass service. One of our offices is located right in Kent. Our company is equally proud to be able to service the great people of Kent. Kent is a great place to live and visit as well. Many are surprised to find out that Kent is the sixth largest city in Washington. Yet somehow it still feels like a small cozy town.
The Commute
A vast majority of Kent residents commute into Seattle for work. It goes without saying that the more time you spend on the road, the more likely you are to receive some sort of auto glass damage. This is especially true for the greater Kent Washington area. Our area has some of the largest gravel aggregate deposits in the United States. Therefore there are a lot of gravel trucks on the road. Furthermore the Kent greater area is currently having the largest increase in construction it has seen in over a decade. In other words, there is no shortage of gravel and loose debris on Kent area roadways.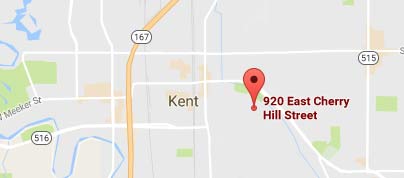 Our Address:
920 Cherry Hill St
Kent WA 98030
1-253-856-1239
Winter Windshields
Construction and gravel aggregates are not the only contributors to a high volume of auto glass damage. Kent residents also know that we see our fair share of snow every year. What most people do not know is that salt is not the only thing that is used on the roadway to improve road conditions. Salt helps melt snow and ice but small gravel is also added into the mixture. Gravel helps vehicles maintain traction on an otherwise slippery roadway. One must take into consideration that a vast majority of vehicles (particularly trucks) have all terrain tires equipped for Kent weather conditions. These tires have deep tread which allows small rocks and other debris to get stuck in tires easily. When rocks or debris dislodge from tires they have a great deal of force behind them. This obviously means that there will be windshields damaged by the debris. Those are just a few reasons why Washington has one of the highest volumes of damaged windshields in the nation.
Choose the Right Company
Choosing the right auto glass company is imperative. An improperly installed windshield can cause serious damage to your vehicle. Especially with the amount of rain we receive each year in Kent. Improperly installed auto glass may not seal properly which can leave water to slowly drip to the interior of your vehicle. This will cause your vehicle to have a bad odor. Additionally, it will also cause mold to form. When water gets in the interior of a vehicle can permanent damage. That is one of the many reasons it is so imperative that you hire an experienced auto glass company that adheres to all original equipment manufacturer standards. Our company adheres to all OEM installation standards. That means we are following the original equipment manufacturers methods of installation. Using OEM guidelines drastically reduces the chances of having an issue with your auto Glass.
Auto Glass Solutions of Kent looks forward to helping you with all of your auto glass and windshield repair needs Kent. Call us today to get an estimate or fill out the contact form on our website.
The Finest Windshield Repair and Replacement in Kent.
Call us today at 1-253-856-1239.